Custom-made training
---
IMMERSION TRAINING 'WEEKEND RESIDENTIAL©' AND 'WEEK RESIDENTIAL©'
How to best use your time for language training? Organize your training with Better Horizons. Although there are many benefits of ongoing language training in the "in-company" model, the real breakthroughs call for more radical solutions. Our immersion programs of "Weekend Residential©" and "Week Residential©" will let you overcome speaking barriers, improve fluence and eliminate long-rooted mistakes.
Ask for more details writing to jacek@betterhorizons.pl and get ready for an unforgettable linguistic experience.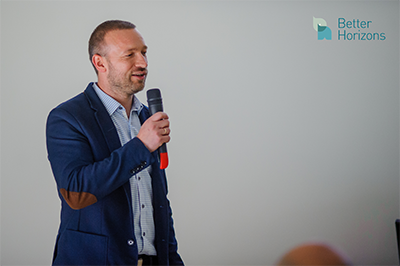 BUSINESS PRESENTATION COACHING

Focused training to help you run successful business meetings, or prezentations in English.


Essential skills of preparing and delivering a professional and successful business presentation

Body langauge check: detailed feedback with your recorded presentation to analyze and learn